Mesh Banners
For Fence Screening we use Banner Mesh also referred to as Mesh Banner or Mesh Sign.
Mesh Banner have small holes that allow the breeze to pass through the banner avoiding a sail effect and ripping up against the wind. Mesh Fence Screening Banners are most commonly referred to as banner mesh, vinyl mesh banner, outdoor mesh banners, outdoor banner, fence banners, this is the same product.
Price : $200.31




Availability date:
More info
Artwork Specifications
Marketing Ideas
Review
Fence Screening, Banner Mesh, Mesh Banner
Most normally seen as fence or wall wraps for development/improvement ranges or enlisted for auto yard deals. The standard cross section has little gaps that permit the breeze to go through the mesh banner staying away from a sail impact and tearing up against the wind. 270gsm, 1000 denier standard - water safe and UV utilized for mesh banner and lattice flag printing.
Promoting with cross section mesh banner; what a superior approach to advertising than with a huge vinyl flag that can be seen several feet – in some cases even kilometers away? This is particularly valid on the off chance that you need to catch the consideration of a group or passers-by a Mesh Banner dangled from structures, stages, between posts, tents, on dividers, and anyplace else dependably get a look the length of they are hanging.
Custom Mesh Banner standards are financially savvy by and large, they do speak to a venture, so in the event that you will be hanging your flags outside for augmented periods or potentially in stormy climate, you ought to arrange weatherproof mesh vinyl banners. While nobody can promise that no standard will ever come up short, there are a few things you can do to guarantee your flags have life span and toughness.
Go network
Our printing administrations begin with a top-quality 13-ounce white cross section vinyl standard material that permits overwhelming winds to push through without harm. This sort of material has the additional advantage of permitting individuals to see out from the back (non-printed) side, so it is ideal for outside stages where winds can get speed over open fields.
You'll likewise need to arrange your flags completed with stitches and grommets, which add quality and strength to your vinyl standards at their most defenseless tear-focuses. Trims fortify the edges of your vinyl flags while grommets permit you to secure your standards to substantial relentless items.
Vinyl network pennants stretch with wind blasts and has enough flexible capacity to maneuver once more into shape, so your flag will have a vastly improved shot of confronting wind and rain. One admonition: Vinyl can get fragile in amazing frosty and is not commonly suggested for below zero temperatures.


OUTDOOR MESH BANNER
270gsm, 1000 denier banner
Standard Resolution Print
Water Resistant
UV Resistant
Range of finishing options available for banner installation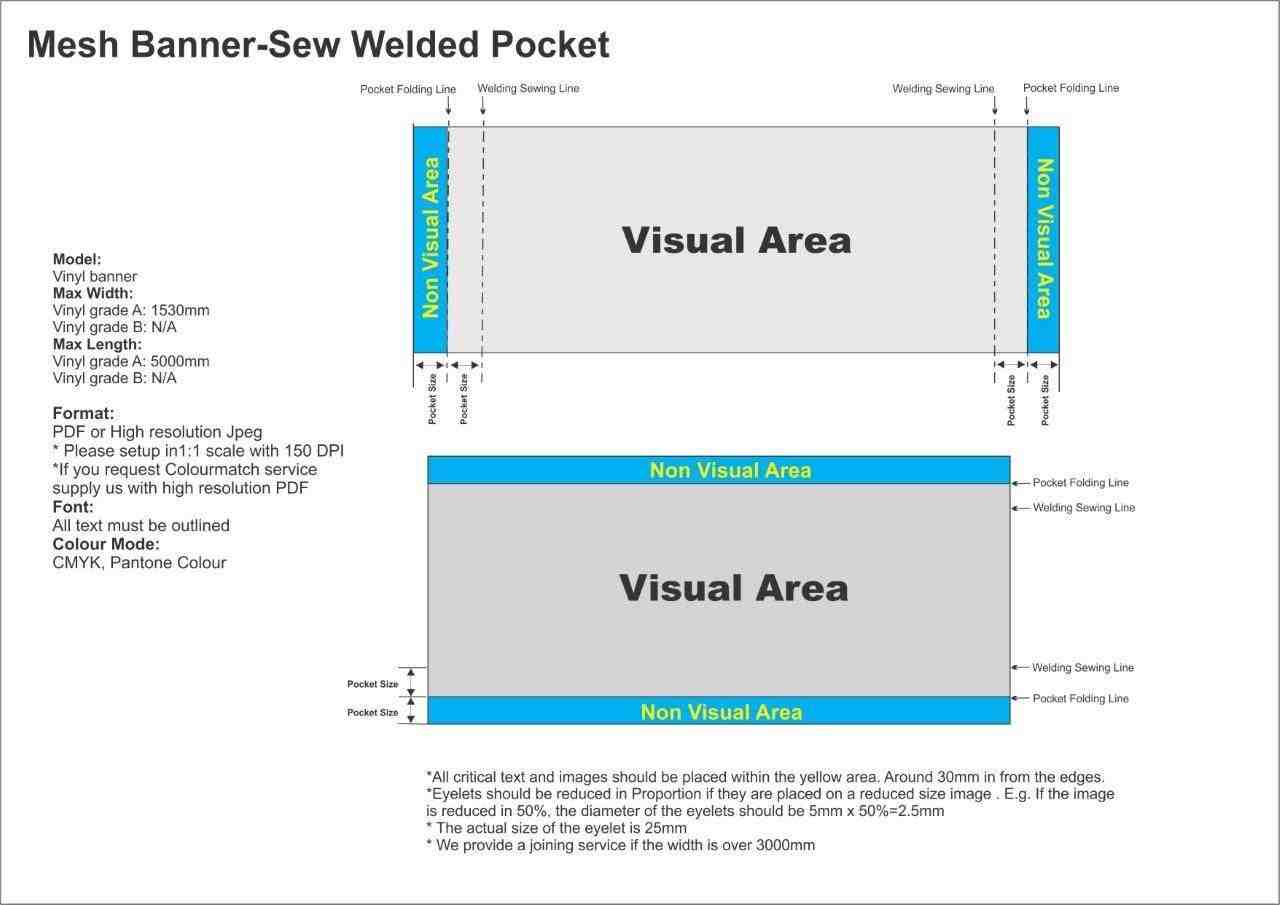 Mesh Banner "PVC" is ideal for larger outdoor banners where wind loads can be an issue. Outdoor advertising banner mesh is a perforated PVC banner material, so some of the wind passes through the sign banner reducing the wind load. Traditional banners can act like sails a Mesh banner allows some wind to pass through, so they reduce this effect so make them ideal for exposed locations such as scaffold banners.

Another use is where a promotional banner is used over a window. A traditional PVC banner would block all the light mesh banners are a great solution in these situations. Mesh Banners are normally finished with turned edges and provided with eyelets, but Pockets can also be provided to take scaffold poles.
We use durable; UV stable eco-friendly inks printed on our large format digital printers to produce full-colour eye-catching vinyl banners.
Measure the location
Measure the exact dimensions of your banner location. If your banner is suspended over a street, find out the distance between the mounting poles you plan to hang your banner from.
On the side of a building? Make sure you measure between the windows. On a festival booth? Measure the length of the table.
Once you have your measurements, you have to decide how much of your available area your banner should take up.They say Bigger is often better! However only when it does not obscure other important features. Using our booth example: a vinyl banner that is so large it obscures key features would not be a good idea.
Customize Your Product