Invoice Book|Triplicate A5
Our Invoice Book Printing Incorporates the Latest Print Technology in Our Invoice Book.
Order your Invoice Book Online, A personalised Invoice Book is ideal for paperwork on the move where you need multiple copies of the same document, right there and then.
Triplicate A5
Price : $162.00




Availability date:
More info
Artwork Specifications
Marketing Ideas
Review
Invoice Book
A proficient approach to give various shading coded duplicates of a solitary archive that incorporates written by hand data. They are the advanced supplanting for structures with carbonless invoice books. 

NCR Shapes wipe out the carbon mess and are an a great deal more expert contrasting option to rounding out numerous duplicates of a structure on white paper. Use them for types of assorted types, for example, request frames, pressing records, solicitations, and receipt books with company logo. They are especially valuable where amounts, checkmarks, or marks will be added to the structure by hand.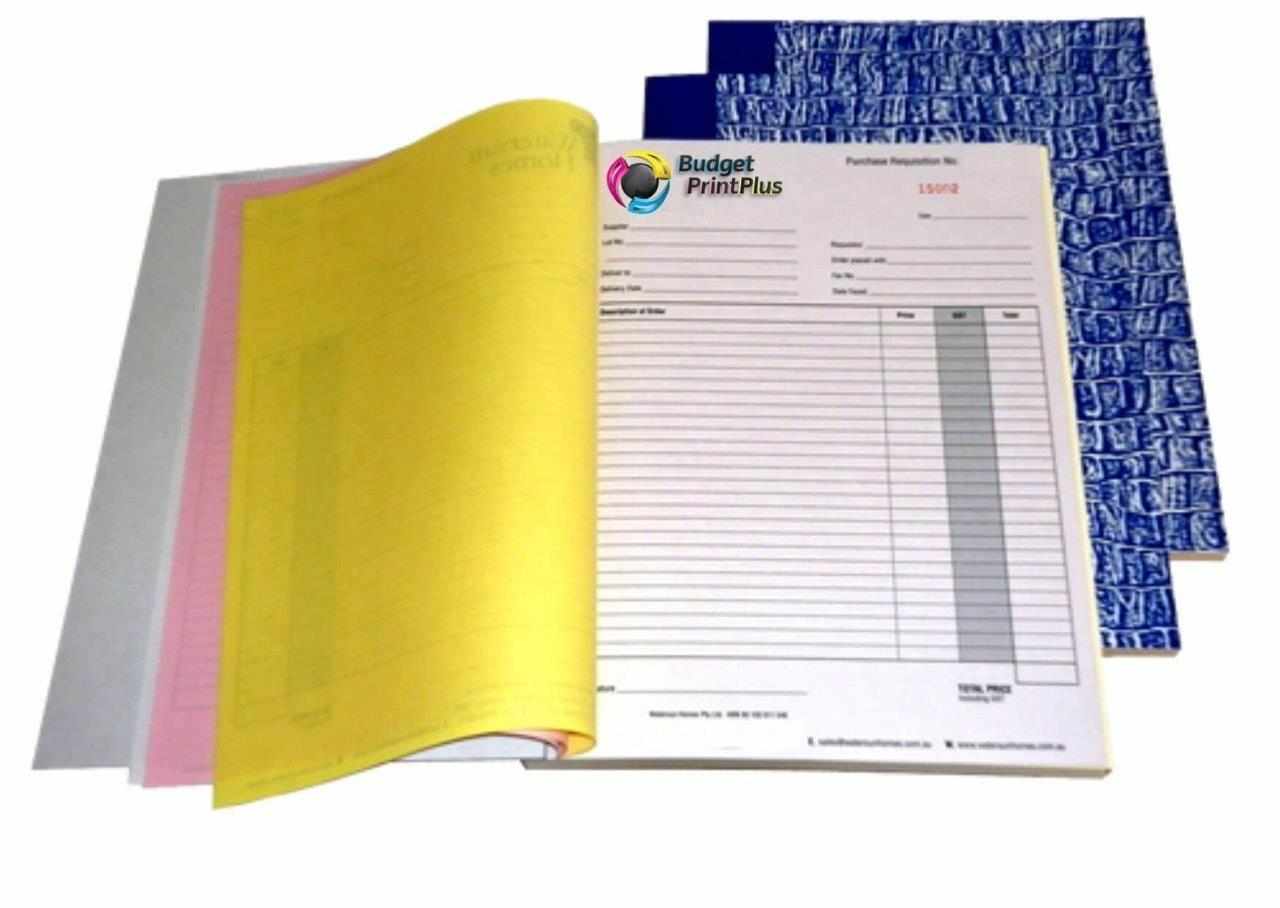 BPP provides customised online printing services through our hubs located in  Sydney, Melbourne, Adelaide, Perth, Brisbane,

PRINTING: Full colour, Mono (Black)
SCREENING: Sublima High Definition Hybrid Screening Technology
STOCK OPTIONS: 60GSM Premium NCR Paper
CARBONLESS PAPER COLOUR ORDER: Top copy is white bottom copy various colours available
BINDING: Bound with White covers, Fold over writing guard, Boxboard backing and Silver cloth tape
SIZE OPTIONS: DL (210x99mm), A5 (148x210mm), A4 (210x297mm)
EXTRA OPTIONS: Reverse conditions, Croc covers (Blue, Green) Drill holes
FREE AUSTRALIA-WIDE DELIVERY (REFER TO CONDITIONS OF SALE FOR DETAILS)
You need to think about how to make you catalog noticeable. Think about a catalog as if your designing a small magazine showcasing your products and services.
NCR Invoice Books are an efficient way to provide multiple color-coded copies of a single document that includes handwritten or typed information. They are the modern replacement for forms with carbon paper. NCR Forms eliminate the carbon mess and are a much more professional alternative to filling out multiple copies of a form on white paper.

Use them for forms of all types, such as order forms, packing lists, invoices, and receipts. They are particularly useful where quantities, checkmarks, or signatures will be added to the form by hand.
The back side of the form is the perfect location for printing terms & conditions, warranty information, or other non-variable text that you want on every copy.
Customize Your Product