Tax Invoice Book
Consultants need Printed Invoice Books with multiple copies, freelance workers have become a unique part of the workforce, right now there are millions of people working in the independent business sector.


Invoice Book Printing
Numerous organisations are outsourcing to specialists to work on projects, for example, composing, planning, programming, counselling, and for official purposes.

BPP provides customised Invoice Books online printing services through our hubs located in Sydney, Melbourne, Perth, Brisbane Tasmania, and Darwin.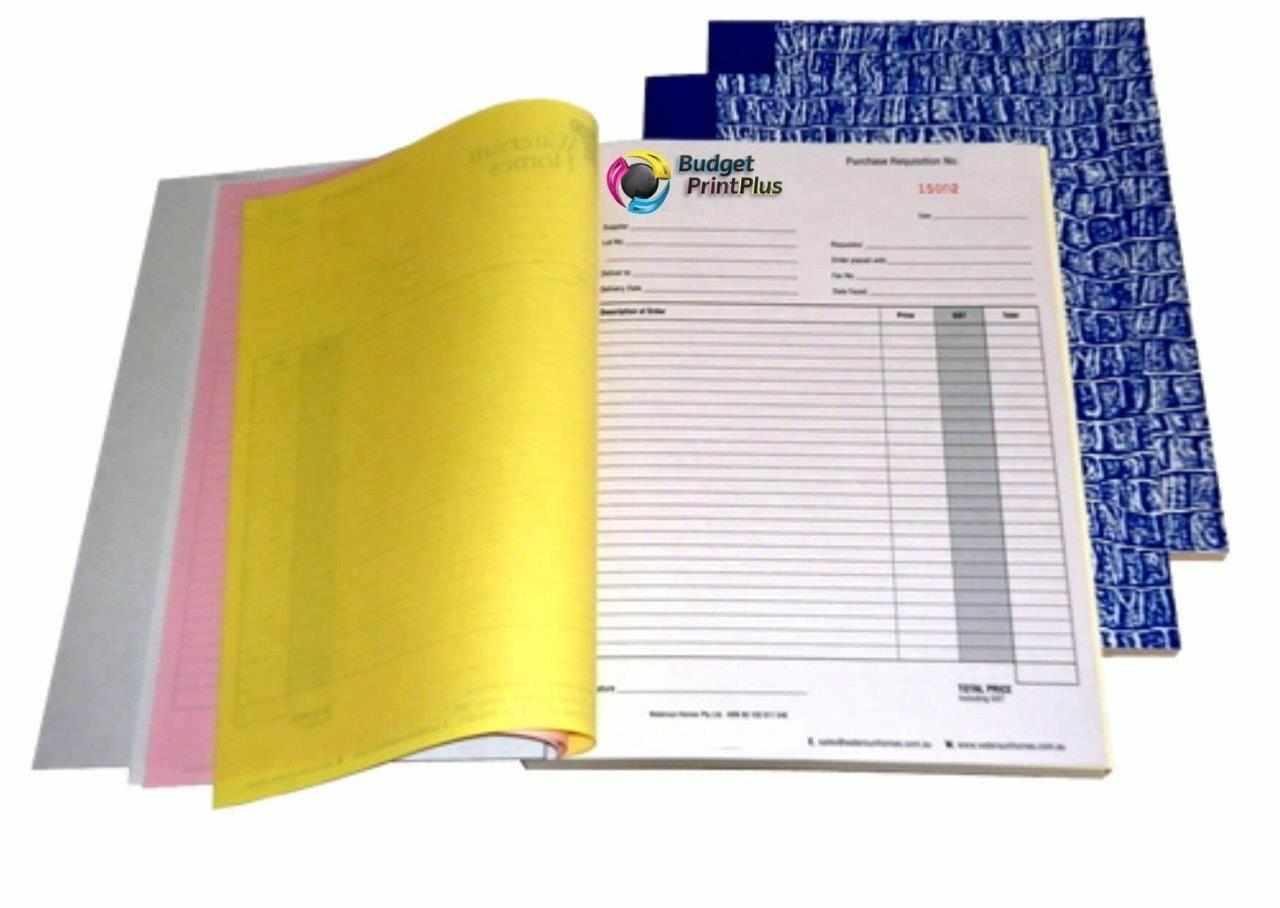 PRINTING: Full colour, Mono (Black)
SCREENING: Sublima High Definition Hybrid Screening Technology
STOCK OPTIONS: 60GSM Premium NCR Paper
CARBONLESS PAPER COLOUR ORDER: Top copy is white bottom copy various colours available
BINDING: Bound with White covers, Fold over writing guard, Boxboard backing and Silver cloth tape
SIZE OPTIONS: DL (210x99mm), A5 (148x210mm), A4 (210x297mm)
EXTRA OPTIONS: Reverse conditions, Croc covers (Blue, Green) Drill holes
FREE AUSTRALIA-WIDE DELIVERY (REFER TO CONDITIONS OF SALE FOR DETAILS)
NCR invoice pads are an efficient way to provide multiple colour-coded copies of a single document that includes handwritten or typed information.

They are the modern replacement for forms with carbon paper. Invoice Books Custom Forms eliminate the carbon mess and are a much more professional alternative to filling out multiple copies of a form on white paper. Use them for forms of all types, such as order forms, packing lists, invoices, and receipts. They are particularly useful where quantities, checkmarks, or signatures will be added to the form by hand.
The back of the form is the perfect location for printing terms & conditions, warranty information, or other non-variable text that you want on every copy.
Summary
Product Name:

Invoice Books|Duplicate DL|100 Sets

Product Reference:

Duplicate DL|100 Sets

Price: $

153.00

Product Width:

0.00 市厘

Product Height:

0.00 市厘

Product Depth:

0.00 市厘

Product Weight:

0.00 市制

Description:

Check out our Custom Invoice Books and Docket Books Printing Prices A mobile workforce requires high-quality customised invoice books with the company logo for recording transactions and reinforcing your brand and services.