Pull Up Banners
Pull Up Banners Perth The hardware mechanism has a five-year warranty. It is perfect for all exhibitions, retail spaces, trade shows and conferences and is designed to be used time and time again.

Free Lamination (Matt or Gloss Finish)

Black Carry Bag

This solid indoor signage resolution with AN elegant, wide base, available in a vary of sizes and is ideal for reflective upmarket high-end events, companies, and merchandise launches.

Pull Up Banners, used for advertising and marketing at trade shows, exhibitions, conferences, and in-store promotions. The banner seamlessly rolls or retracts into the bottom for storage when not in use.

Photographic Quality - Hi-Resolution Print 720dpi available in a range of sizes it is used for banners printing, pull up banners Australia, trade show displays.

Retractable Banner Stands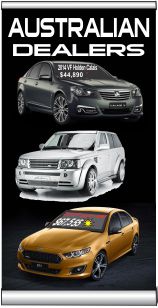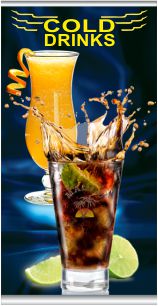 What makes Polypropylene curl?
Since we print on the Polypropylene with dye ink the print must be laminated to prevent any damage. The laminated causes the print to curl due to stretching. We suggest printing on Indoor Curl Resistant Poster, UV Curl Resistant Block-out Poster or Fabric to avoid this from happening.
What is the best print material to use for an urgent job?
UV Curl Resistant Block-out Poster.
In the artwork specifications, why is the print width 10mm, shorter than the actual base width?
To minimise the edges of the banner being damaged from rolling in and out of the base. we have to make the print 10mm shorter to fit into the frame,
The reason for the bleed at the top and bottom of the Pull Up Banner?
We require extra bleed (print) so that banner can be attached to the top bar. We also allow for an extra bleed at the bottom of the banner to attach it to the base mechanism.
Special artwork requirement for fabric pull up banner?
If you place any critical information in an area 100mm above the base.it will not be visible when the banner is extended.
Pull Up Banners, Design
We have found that there are just a few simple things you need to consider when designing your artwork for this great product.
Firstly be careful with colours. Limit the colours you use and try to use colours that match will achieve the effect you need. A light colour on a dark background always stands out well and vice versa.
Secondly, limit the number of images you are using. Most of the time it is better to use one bigger image as opposed to a bunch of smaller images. This will create a focal point on your banner. With smaller images, your eye can get lost with all of the information.
Thirdly and probably the most important point is to get your point across concisely. People do not stand and read a retractable banner. They take 2 or 3 seconds to have a look at it. So what is your call to action? If you are talking about a product, keep it to very short points and use images where possible. Slabs of text should be kept to the promotional material you hand out.
The final point to a great pull up banner design is to know where to layout everything. Your eye will start from the top of a pull-up banner and start going down. So it is important to put your important information in the right spot (preferably the higher, the better).