Pull up Banner
Pull Up Banner designed for long-term use with a hardwearing base. The double-sided poster print can be seen from both sides and can either have the same artwork printed on both sides or separate artworks.

The hardware mechanism has a 5-year warranty. It is great for all exhibitions, retail spaces, trade shows and conferences and is designed to be used time and time again
Attract attention from both sides. Repeat your message or have two different deals!

Choose from our range of Double Sided Pull up Banner Sizes. If you are out to impress your clients, upgrade to our Deluxe bases for an elegant, wide base, perfect for reflecting upmarket & high-end events, companies, and product launches. The photographic print seamlessly rolls or retracts into the base for safe storage when not in use.
Printing Near Me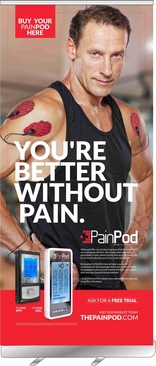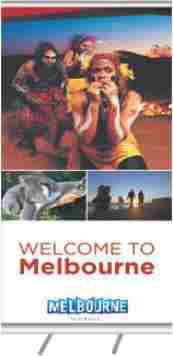 Why does Polypropylene curl?
Since we print on the Polypropylene with dye ink the print must be laminated to prevent any damage. The laminated causes the print to curl due to stretching. We suggest printing on Indoor Curl Resistant Poster, UV Curl Resistant Block-out Poster or Fabric avoid this from happening.
What is the best print material to use for an urgent job?
UV Curl Resistant Block-out Poster.
In the artwork specifications, why is the print width 10mm, shorter than the actual base width?
We have the print 10mm shorter to fit into the frame, in order to prevent the edges from becoming damaged from rolling in and out of the base.
In the artwork specifications, why do we need the image to bleed at the top and bottom of the Pull Up Banner?
We require extra bleed (print) so that the top bar can grip the print. We also allow for an extra bleed at the bottom of the banner to attach it to the base.
What is the special artwork requirement for fabric pull up banner?
We recommend that you do not place any critical information in an area 100mm above the base, otherwise, it will not be visible when the banner is extended.